GSMArena (Friday, 11 August)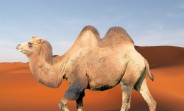 If you've been following the iPhone 8 leaks, the camera hump may have caught your attention. Yes, a vertical dual camera with an LED flash between the two lenses is an attention grabber, but today we want to talk about the hump. Is it a deal breaker?

In last week's Counterclockwise, we concluded with a simple truth - the trend of thin phones killed the large image sensor. But modern designs have gotten so thin that even a small camera module creates a hump (bezel-less screens and big batteries don't help either).

At least some makers put the camera in the middle so that the phone is......
To add to this post "Weekly poll: are camera humps bad?"; share your views in the comments section below or click here for more detailed content.
- Advertisement -
Metroble is a complete global news reader platform. We distribute news and information every minute of the day from a number of news establishments in US, UK and the world. Follow all the interesting news and stories you love and care about in one place on Metroble.
All copyrights on Metroble.com are owned by their respective owners.
Related Posts