GSMArena (Saturday, 12 August)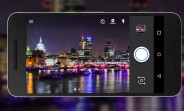 Google has pushed out a new update to its Camera app that bumps the version to 4.4. Among the key changes the update brings along, is the Selfie Flash feature that's aimed at improving your low-light selfies.

To access the functionality while taking a selfie, just make sure the Flash option is set to automatic or on. That's it. Now when you capture the image, the app will produce a little extra light, simulating flash.

It's worth mentioning that you may observe a yellowish-brown color light covering the entire screen after you tab the click icon and before your captured image shows......
To add to this post "New update to Google's Camera app brings Selfie Flash"; share your views in the comments section below or click here for more detailed content.
- Advertisement -
Metroble is a complete global news reader platform. We distribute news and information every minute of the day from a number of news establishments in US, UK and the world. Follow all the interesting news and stories you love and care about in one place on Metroble.
All copyrights on Metroble.com are owned by their respective owners.
Related Posts
Older News
Samsung is launching a 17-lens 360 camera that looks like a UFO Mashable (Yesterday) - Samsung may now have the VR camera to beat.The company just unveiled a new 17-lens 360-degree camera for VR that can live-stream in 4K. Called the 360 Round, it will...
Google Calendar for web just got a pretty new update Mashable (2 days ago) - Google is rolling out new updates for the web version of Google Calendar, finally giving PC users the sleek layout and intuitive controls offered on the mobile app version of...
Google Calendar on the web gets a fresh new look TechCrunch (2 days ago) -  After a few years of sticking with essentially the same design, Google Calendar on the web is getting a makeover today. That means a fresh new color palette and a...
The best way to get cheap data while traveling internationally Mashable (2 days ago) - My favorite travel gadget isn't my camera or noise-canceling headphones or even my iPhone. It's a SIM card from Google.I'm talking, of course, about Project Fi, Google's wireless service that...
Google removes Maps feature showing calories and mini-cupcakes after huge online backlash Mashable (2 days ago) - Google is constantly testing new features for its Maps app, from the estimated elevation for cyclists to video footage of the searched location. SEE ALSO: Google Maps error sends tourists looking...
Google Photos will now automatically recognize pics of your pets Mashable (3 days ago) - Google knows that your phone holds untold gigabytes of snapshots of your favorite animal friends. So the search giant is making it even easier to group those pics all together.SEE...
Google Maps now lets you explore your local planets and moons, too TechCrunch (3 days ago) -  Google today announced a fun update to Google Maps that'll allow you to virtually visit a dozen additional planets and moons in our solar system. The company has added imagery of...
DxO One camera for Android on the way, new accessories debut TechCrunch (3 days ago) -  The best compact camera smartphone attachment you can buy is getting an Android version, and a heap of updates for the existing iPhone model that make it even better (and...