GSMArena (7 days ago)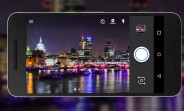 Google has pushed out a new update to its Camera app that bumps the version to 4.4. Among the key changes the update brings along, is the Selfie Flash feature that's aimed at improving your low-light selfies.

To access the functionality while taking a selfie, just make sure the Flash option is set to automatic or on. That's it. Now when you capture the image, the app will produce a little extra light, simulating flash.

It's worth mentioning that you may observe a yellowish-brown color light covering the entire screen after you tab the click icon and before your captured image shows......
To add to this post "New update to Google's Camera app brings Selfie Flash"; share your views in the comments section below or click here for more detailed content.
- Advertisement -
Metroble is a complete global news reader platform. We distribute news and information every minute of the day from a number of news establishments in US, UK and the world. Follow all the interesting news and stories you love and care about in one place on Metroble.
All copyrights on Metroble.com are owned by their respective owners.
Related Posts
Older News
Google brings six-second video previews to mobile search TechCrunch (Yesterday) -  Google announced a major update to its mobile search results pages today. Whenever your query brings up a video, Google will now show you a silent six-second clip from that...
Nokia's #bothie will never take off because it's just not Instagram-friendly Mashable (Yesterday) - Nokia is trying to make a new kind of selfie happen. The "bothie." But does the world really need another type of selfie? Is the concept really cool enough to...
Take your selfie game up a notch with these clip-on lenses Mashable (2 days ago) - Just to let you know, if you buy something featured here, Mashable might earn an affiliate commission.So, you're something of a phone-photography pro. You've got the rule of thirds down,...
Nokia 8 camera samples: photos of London, black & white shots, bothies too GSMArena (2 days ago) - We took some camera samples with the Nokia 8, but the famous British weather did not want to cooperate. The first photo below is from Wednesday evening, right after the...
Google brings Q&As to Google Maps TechCrunch (3 days ago) -  Google is launching a new feature for Google Maps for Android and mobile search today: question and answers. I'm sure it won't come as a surprise when I tell you...
Google updates Docs, Sheets and Slides with new collaboration features TechCrunch (3 days ago) -  G Suite, Google's set of online productivity tools, is getting a major update today that adds a number of new features to Google Docs, Sheets and Slides. Most of these...
Asus' upcoming Zenfone 4 series leaks again in images GSMArena (3 days ago) - Asus' upcoming Zenfone 4 series has already been the subject of several leaks and rumors until now. But that isn't stopping new ones from surfacing. Case in point: a new...
Android 7.1.1 for Nexus 6 rolling out again GSMArena (3 days ago) - If you remember, back in March, Google pushed a downgrade OTA to Android 7.1.1-powered Nexus 6 units (forcing them back on to version 7.0.) following reports that the March update...