GSMArena (Friday, 19 May)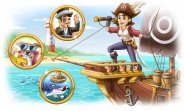 The Telegram app has started receiving a new update. Arriving as version 4.0, the update brings along several changes, including video messages as well as the ability for bots to accept payments.

Yes, the app now lets users send video messages as well (voice messages are already supported, in case you aren't in the know).

To access this feature, open a chat, and switch to the camera mode by tapping the mic icon. Now you can start recording video by tapping and holding the camera icon. Release the button when you're done, and your message will be sent.

Moving on, the update also......
To add to this post "New Telegram update brings video messages, ability for bots to accept payments"; share your views in the comments section below or click here for more detailed content.
- Advertisement -
Metroble is a complete global news reader platform. We distribute news and information every minute of the day from a number of news establishments in US, UK and the world. Follow all the interesting news and stories you love and care about in one place on Metroble.
All copyrights on Metroble.com are owned by their respective owners.
Related Posts