GSMArena (Thursday, 18 May)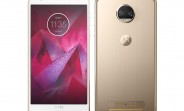 Motorola's upcoming Z2 lineup is getting more leaky by the day. Mere hours ago we showed you an image that claimed to reveal the front of the Z2, and now the Z2 Force has been given the full leaked press render treatment - with both its front and its back clearly visible.

The Z2 Force should obviously serve as the successor to the original Z Force from last year, pairing a Snapdragon 835 SoC with Motorola's ShatterShield technology, which will ensure the screen doesn't break as easily as you'd expect it to following a drop.

The phone has also been rumored to sport a dual rear camera......
To add to this post "Moto Z2 Force smiles in a leaked press render"; share your views in the comments section below or click here for more detailed content.
- Advertisement -
Metroble is a complete global news reader platform. We distribute news and information every minute of the day from a number of news establishments in US, UK and the world. Follow all the interesting news and stories you love and care about in one place on Metroble.
All copyrights on Metroble.com are owned by their respective owners.
Related Posts