GSMArena (7 days ago)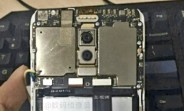 The Meizu M6 Note is due to be announced on August 23, and you might miss it on that day with the Galaxy Note8 set to go official then. You should probably look out of the M6 Note, however, as it will apparently come with its own dual camera, much like the Note8, but certainly for a lower price.

A Meizu M6 Note unit with the back cover removed has been photographed revealing the two camera modules, one above the other along the central axis of the phone. Further to the top, we see a quad LED flash, not unlike the one on the existing Meizu E2.

Meizu M6 Note (allegedly)

The......
To add to this post "Meizu M6 Note to come with dual camera, quad LED flash"; share your views in the comments section below or click here for more detailed content.
- Advertisement -
Metroble is a complete global news reader platform. We distribute news and information every minute of the day from a number of news establishments in US, UK and the world. Follow all the interesting news and stories you love and care about in one place on Metroble.
All copyrights on Metroble.com are owned by their respective owners.
Related Posts
Older News
Coolpad Cool M7 with Snapdragon 625 launched GSMArena (Yesterday) - Coolpad has launched the Cool M7 in China. The device is priced at CNY 2699 ($404) and available on JD.com.Coolpad Cool M7The Cool M7 has a 5.5-inch 1080p display with...
ZTE TL99 with QHD display and 20MP camera gets TENAA certified GSMArena (Yesterday) - A new ZTE smartphone has been certified by China's TENAA. Listed as TL99, the device is powered by an SoC with quad-core, 2GHz processor, and sports a 5.5-inch display with...
ASUS ZenFone Zoom S launched in India GSMArena (2 days ago) - ASUS has launched its ZenFone Zoom S smartphone in India. The phone is priced at INR 26,999 ($420) and will be available exclusively on Flipkart.ZenFone Zoom SThe ASUS ZenFone Zoom...
Nokia 8 camera samples: photos of London, black & white shots, bothies too GSMArena (2 days ago) - We took some camera samples with the Nokia 8, but the famous British weather did not want to cooperate. The first photo below is from Wednesday evening, right after the...
Behold, the LG V30 in all its glory Mashable (2 days ago) - LG has been revealing key details about its upcoming V30 flagship ahead of the Aug. 31 launch, but one important piece of the puzzle is missing: An actual picture of...
Redmi Note 5A to be made official next week, Xiaomi confirms GSMArena (2 days ago) - In line with recent rumors, the Xiaomi Redmi Note 5A will be made official next week. The confirmation came in the form of official press invites that reveal August 21...
Polaroid announces entry-level Cosmo K and K Plus with quad-core processor and 13MP camera GSMArena (2 days ago) - Polaroid has made official three entry-level devices - a couple of smartphones and a tablet. Starting with the phones, dubbed Cosmo K and Cosmo K Plus, the devices are powered...
Nokia 8 announced: its dual camera boasts Zeiss lens and OZO audio GSMArena (3 days ago) - "With the Nokia 8 - we wanted to create the ultimate tool to tell our story". That's what HMD told us and we think is a perfect description for this...