GSMArena (Saturday, 12 August)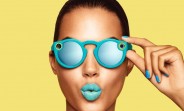 Back in September last year, the company behind Snapchat changed its name to Snap. Reason being, the Snapchat app was no longer the only product the company was offering - a pair of sunglasses (dubbed Spectacles) were announced on the same day.

Spectacles featured a built-in video camera, capable of capturing 10 second vidoes (in circular format) that can be synced with the Snapchat app. There's also an LED indicator that informs others you are recording.

Snap effectively revealed during its Q1 2017 earnings that it managed to sell 64,000 units of Spectacles. And now, the company......
To add to this post "Hype surrounding Snapchat's Spectacles seems to have died down"; share your views in the comments section below or click here for more detailed content.
- Advertisement -
Metroble is a complete global news reader platform. We distribute news and information every minute of the day from a number of news establishments in US, UK and the world. Follow all the interesting news and stories you love and care about in one place on Metroble.
All copyrights on Metroble.com are owned by their respective owners.
Related Posts