GSMArena (Saturday, 12 August)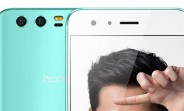 Update: New reports suggest the new color option is called Robin-Egg Blue or Eggshell Blue. It comes only in 6GB/64GB memory configuration, and will be available in China starting August 16. Price tag is CNY 2,699 (around $405)

Original story follows:

Chinese smartphone manufacturer Huawei has made official a new color option for its Honor 9 smartphone. Though the exact name isn't yet known, reports say its Google translated version is Blue Bird. Check it out in pics below.

Recently, there were rumors that new Honor 9 colors are in the pipeline - leaked renders......
To add to this post "Huawei unveils new color option for Honor 9 [Updated]"; share your views in the comments section below or click here for more detailed content.
- Advertisement -
Metroble is a complete global news reader platform. We distribute news and information every minute of the day from a number of news establishments in US, UK and the world. Follow all the interesting news and stories you love and care about in one place on Metroble.
All copyrights on Metroble.com are owned by their respective owners.
Related Posts