GSMArena (Friday, 19 May)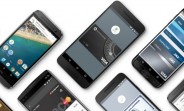 Google has announced that its mobile payments service Android Pay will soon be available in some new markets. The list includes a total of five names: Brazil, Canada, Russia, Spain and Taiwan. With this, the service would be available in a total of 15 countries around the globe.

The announcement related to expansion was made by Pali Bhat (VP of payments products at Google) in a blog post. In addition, he revealed that the ability to send/receive payments through Google Assistant is also coming soon.

"On your Google Home or Android device, it's as simple as saying Ok Google, send $10......
To add to this post "Android Pay to be available in five more markets, including Canada and Russia"; share your views in the comments section below or click here for more detailed content.
- Advertisement -
Metroble is a complete global news reader platform. We distribute news and information every minute of the day from a number of news establishments in US, UK and the world. Follow all the interesting news and stories you love and care about in one place on Metroble.
All copyrights on Metroble.com are owned by their respective owners.
Related Posts
Older News
Google's Android O could be "oatmeal cookie", but could also be Oreo GSMArena (2 days ago) - Every year we get excited about which dessert could possibly be named the next version of Android. It's honestly such a trivial piece of information that hard-core Android enthusiasts get...
BlackBerry KEYone now available in more European markets GSMArena (3 days ago) - BlackBerry KEYone's European rollout continues. The Android device is now available in a handful of more markets in the region, including Romania, Hungary, Czech Republic, and Slovakia.Pricing, of course, varies...
WhatsApp to continue supporting older Android versions till 2020 GSMArena (3 days ago) - Just yesterday, we told you that WhatsApp's support for BlackBerry platform has been extended till the end of this year. Now, it has come to light that the Facebook-owned company's...
ZTE Axon 7 Mini receives Android 7.1.1, brings Wi-Fi calling on T-Mobile GSMArena (3 days ago) - Those of you using the Axon 7 Mini know that the Nougat update has already been available on the Axon 7 since around March. That's about to change today, which...
The Android Market will finally die on June 30 GSMArena (4 days ago) - Do not adjust your calendar, this isn't an April Fools prank, nor a time travel experiment. Google has just announced that the Android Market will no longer function after June...