GSMArena (Friday, 19 May)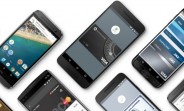 Google has announced that its mobile payments service Android Pay will soon be available in some new markets. The list includes a total of five names: Brazil, Canada, Russia, Spain and Taiwan. With this, the service would be available in a total of 15 countries around the globe.

The announcement related to expansion was made by Pali Bhat (VP of payments products at Google) in a blog post. In addition, he revealed that the ability to send/receive payments through Google Assistant is also coming soon.

"On your Google Home or Android device, it's as simple as saying Ok Google, send $10......
To add to this post "Android Pay to be available in five more markets, including Canada and Russia"; share your views in the comments section below or click here for more detailed content.
- Advertisement -
Metroble is a complete global news reader platform. We distribute news and information every minute of the day from a number of news establishments in US, UK and the world. Follow all the interesting news and stories you love and care about in one place on Metroble.
All copyrights on Metroble.com are owned by their respective owners.
Related Posts
Older News
The Essential Phone's super slick, but it's no iPhone or Google Pixel killer Mashable (Yesterday) - The "father of Android" is ready for his next act.Andy Rubin, who co-founded Android more than a decade ago, is back with a new Android-centric startup. But instead of software,...
Aimed at 'cord cutters,' YouTube TV expands into Baltimore market The Baltimore Sun (2 days ago) - YouTube TV, which bills itself as an alternative to cable television, is expanding into Baltimore and 13 other markets. With the new markets — including Boston, Cincinnati, Las Vegas, Louisville,...
Asus promises Android O updates for the entire Zenfone 3 and Zenfone 4 series GSMArena (2 days ago) - As you may already know, earlier today Asus held a special event during which it unleashed six additional Zenfone 4 models. These all run Android Nougat, but what about the...